Telegram is introducing its own subscription, which will include several paid features and functions.
This is the second method of monetizing the messenger after the advertising platform, which will cover a portion of the app's maintenance costs and allow developers to continue to provide users with an unlimited and free service.
The cost of Telegram Premium is expected to be at $3.99 a month, with local prices around the world (some known price tags are 379 RUB, 22.90 BRL, 16.90 MYR, 99.00 MXN, 349 INR, 18.99 PLN, 3.99 EUR), the prices might not be final yet.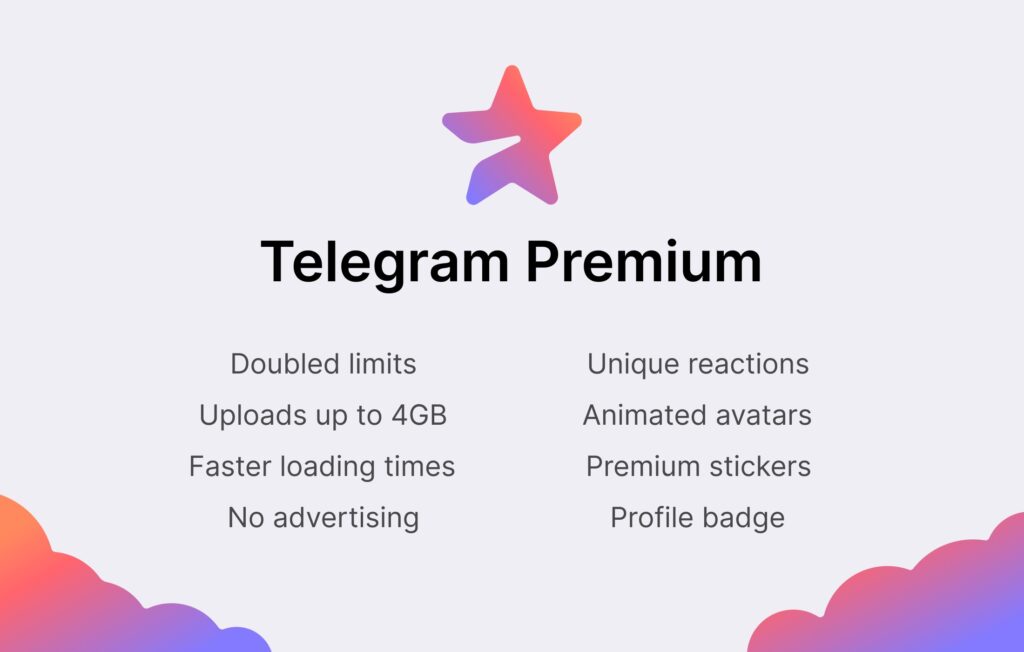 In this article, we'll take a closer look at all the well-known innovations that await Premium users of the messenger.
Doubled limits
The paid subscription will expand some limits in the app — as a rule, regular limits will double:
Number of chats in a folder (100 → 200)
The limit of channels and supergroups in subscriptions (500 → 1000)
Number of folders (10 → 20)
Number of pinned chats in the main tab (5 → 10) and within a folder (100 → 200)
Number of public links for your channels and supergroups (10 → 20)
Number of favorite stickers (5 → 10)
Number of saved GIFs (200 → 400)
Number of accounts associated with the application with unique numbers (3 → 4)
Downloads up to 4GB
Telegram Premium users will be able to upload large files up to 4GB to the messenger's cloud.
Users that will not purchase a subscription will still be able to send media up to 2GB. The app's storage is still limitless for every Telegram user.
Faster download speed
No more limits on download speed for media and documents! Paying subscribers will be able to download the necessary files to the application cache many times faster than before – due to a higher priority for such downloads.
Convert voice messages into text
Now you don't have to listen to voice messages: recognize an incoming audio message with just a single click and convert the voice into a convenient text format.
There are currently no known limits to the length of recognizable messages.
No ads
Sponsored posts, which are natively displayed at the end of the feed after you've read all the posts, will no longer appear in large open channels.
This benefit applies only to Premium subscribers. Paid tools to disable ads for the entire audience are not yet available to channel administrators.
Unique reactions
Users who have subscribed can react to messages with additional animated reactions that are not included in the default set (it now includes 16 emojis).
Premium stickers
The Sticker Store is updated monthly with sets that include exclusive stickers with full-screen effects. Only Telegram Premium subscribers can send these stickers to the chat.
Advanced dialog management
Subscribers will be able to set any tab as a default folder (currently every time you launch Telegram, the "All chats" will be default).
There will also be a setting to hide new incoming chats by archiving them automatically — this tool was previously not available to all users, but only to those whose account met certain criteria.
Profile badge
A distinctive star badge placed next to a subscriber's name will make you stand out from other users.
Animated avatars
Video avatars will be animated not only when the user's profile is expanded, but also in the chat list and the dialogs themselves.
For users without Telegram Premium, video avatars will remain static on a pre-selected frame until expanded to full screen.
Additional app icons
Unlock a wider selection of unusual app launcher icons for Telegram by subscribing to Telegram Premium.