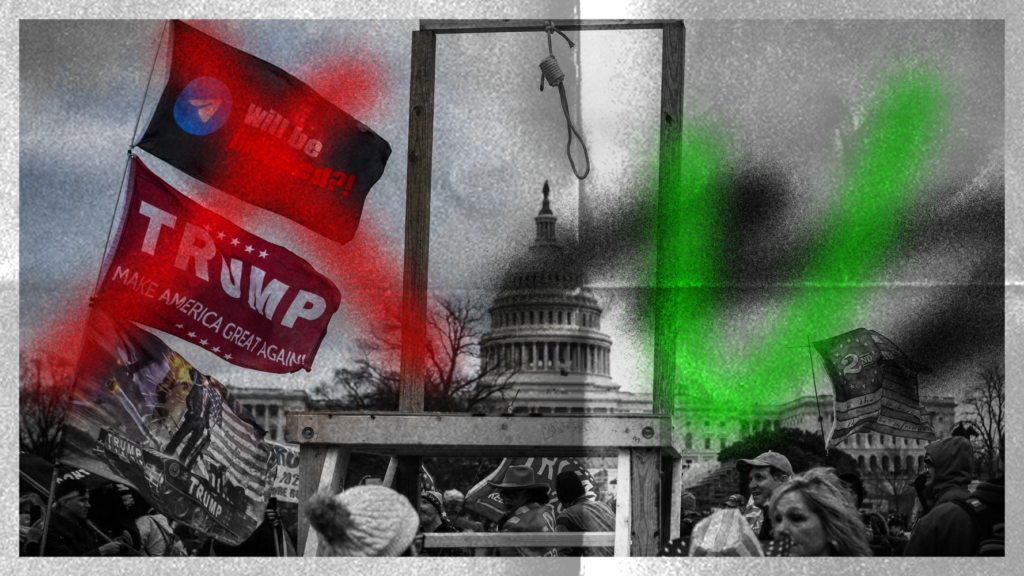 For several days, information has been circulating on the network about the possible blocking of Telegram in the App Store and a small instruction that should restrict Apple access to your phone and prevent it from deleting the messenger. Are the rumors about the blocking true?
What is Parler and where does Telegram have to do with it?
In January 2020, after certain political events in the United States and turmoil in the media, Donald Trump's account was blocked on several social networks. The 45th President of the United States decided to register and broadcast in Parler – this is an analogue of Twitter, but without the usual moderation.
Parler was conceived as a platform free from the restrictions of other social networks and promoting freedom of speech.
Apple, following Google, decided to remove Parler from its app store, citing a discrepancy with the official App Store Review Guidelines regarding moderation and removal of dangerous content.
"We have always supported a variety of perspectives in the App Store, but there is no place for threats of violence and illegal activity on our platform. Parler did not take adequate measures to prevent the spread of such threats to public safety "

APPLE ON TECHCRUNCH COMMENT
In addition to this, Amazon has disabled hosting for Parler, citing a policy violation. Employees of the company counted at least 98 posts on the social network that contain calls to violence. Amazon's decision actually forced Parler to go offline for a while on January 11.
Amid the Parler scandal and the rise of Telegram, channels that mention Trump in their names have begun to gain popularity. Subsequently, some began to mistakenly associate these events and believe that the messenger could also be blocked.
What is the reason for the growth of the messenger?
In January 2021, Telegram reached 500 million active users. Pavel Durov announced this on his channel:
"In the last 72 hours alone, 25 million new users have joined Telegram. These new users came from all over the world – 38% from Asia, 27% from Europe, 21% from Latin America and 8% from MENA (Middle East and North Africa – editor's note). "

PAVEL DUROV IN A RECENT POST
This is also confirmed by the data from AppAnnie as of January 9: in 43 countries, the Android version of the client takes the first place in downloads in the "Communications" category. Basically, the messenger was in the top of Central and Latin America, post-Soviet countries, Africa and Asia.
Pavel Durov linked the growth of the messenger to the recent update of WhatsApp's personal data policy and the flight of users to a more secure and "multifunctional social media platform" – Telegram:
"People no longer want to trade their privacy for free services. They no longer want to be held hostage by technology monopolies who seem to think they can get away with it as long as their applications have a critical mass of users. "

PAVEL DUROV IN A RECENT POST
Will Telegram face a similar fate?
Back in February 2018, Telegram had already disappeared from the App Store precisely because of "inappropriate content" (no clarification), but then it returned to service on the same day.
This is what caused the strengthening of the channel moderation system in the messenger.
It is important to note that Telegram has always blocked channels that publicly called for violence or otherwise violated the rules for using the messenger. Moreover, in his chat, Pavel Durov recently commented on the blocking of one such channel:
"We do not tolerate ISIS or child abuse. By creating a Telegram account, you agree (http://telegram.org/tos) that you will not post any public incitement to violence.

Every time we block a public channel that incites violence (or the distribution of child pornography, malware, etc.), we carefully document the violations. Moderators save screenshots as evidence for each blocked channel. We consistently moderate the platform around the world, from Hong Kong and Iran to Belarus. Civilized public debate and peaceful protests are allowed, but calls for violence are not. "

PAVEL DUROV ABOUT BLOCKING THE HATELAB CHANNEL
Removing extremist channels on Telegram
Telegram confirmed to TechCrunch that dozens of public channels with thousands of subscribers have been removed in the last 24 hours.
"Our Terms of Service expressly prohibit public incitement to violence."

TELEGRAM SPOKESMAN MIKHAIL RAVDONIKAS FOR TECHCRUNCH.
The company confirmed that a number of accounts promoting white supremacy, Nazi symbols and other forms of far-right extremism were part of a new expanding right-wing movement. Some of the blocked channels could be viewed in the Telegram web client for some time.
After the blockages began on Tuesday, many extremist channels began publishing information about backup accounts, pointing out dozens of other groups to subscribers where they could continue to gather.
The new series of Telegram bans appear to be linked to the efforts of anti-fascist and activist Gwen Snyder, who has rallied Twitter users into a "campaign of mass complaints" following the violent invasion of the US Capitol last week.
"For years we have been tracking these Nazi Terrorgram channels and reporting horrific, outspoken calls for racist violence and rebellion, and Telegram did nothing.

It worked, and Telegram is finally eliminating the network of Nazi channels that for months and years openly tried to foment the terror that we saw in Washington. "

GWEN SNYDER TECHCRUNCH
But what if Telegram is blocked?
It is unlikely, but not impossible. In the case of Android, it is possible to either install the client from an alternative store (for example, F-Droid), or download the apk file from the official website. On iOS, this is extremely problematic to implement, and the existing methods are inconvenient and impractical. Nevertheless, quite recently, in his chat, Pavel Durov spoke about the imminent release of the new Telegram web client:
"I hope there will be a new web version in a few weeks. Ultra-fast (as for a web application), minimalistic, but nevertheless beautiful and feature-rich client."

PAVEL DUROV
This is a great alternative in case it comes to blocking Telegram in the App Store, so even in the worst scenario, you should not panic.
What is the instruction about and why is it promoted?
The instruction so kindly distributed by some channels is meaningless. Changing the settings will lead to the fact that you simply cannot uninstall the application manually.
Screen Time and its settings are for parents. For example, using this function, you can set limits on the use of a certain category of applications.
The settings of the App Store itself only allow you to automatically install applications from one device to another, but not uninstall. Moreover, when you delete an application from the App Store, it is not deleted from your device and from the purchase history; you can restore the application at any time if the developer account has not been deleted. Telegram cannot suddenly disappear from the device: although Apple can forcefully remove applications, the company has not used this feature since 2008.
Pay attention to sources. It is unprofitable for specialized media and channels to promote false information and spoil the audience's confidence in themselves, while entertainment media can refer to the topics of publications and in every possible way disclaim responsibility.
Subscribe to our channels in Telegram,  Telegram Info  and  Beta Info to always be aware of the latest news of the messenger.